Higher National Diploma in Physical Education
Garner the personal development skills required to be a great professional.
Prepare yourself for the 21st century. Develop your interest in Sport and Exercise Science that leads to primary or secondary school physical education (PE), school sports development, Physiotherapy, Sports Therapy, or in teaching children with special educational needs. The Higher National Diploma in Physical Education provides its learner the realistic and appropriate career-related opportunities worldwide for 21st-century employment markets.
Is this course right for me?

Sport and Exercise Science lends itself to a range of careers in sports and fitness as well as other industries, for example, nutrition, physiotherapy, and chiropractic practice. Some careers that you could consider doing with PE include Sports science, PE teacher, Physiotherapist, Professional Sportsperson, Sports Coach/Consultant, Sports Policy Adviser at the local and national level, Diet and fitness instructor, and Personal trainer.

Why Choose Sport & Exercise Science?
What is this course about? Gain an in-depth understanding of high-quality teaching with a range of practical modules including; Teaching Games, Outdoor and Adventurous Activities, Athletics, Swimming, Basketball, Football, Ping-Pong, Tennis, and Alternative Activities in PE. You will also analyze and practice a range of teaching approaches with the chance to tailor your degree to your career goals and interests with optional modules that you can view in the course map.

Students can focus on their career aspirations or work area within the specification in which there are many specialist pathways, in Primary and Secondary PE or Sport Premium. Tutors have carefully chosen units of study that complement students' interests and what universities/ employers are looking for.
The course is designed to replicate the Sports and Physical Science working environment, therefore you will; Gain a broad understanding of business and be able to study selected areas in more depth. Develop skills, knowledge, and understanding in business. Have an opportunity to apply learning in a practical and realistic way. Follow a programme of study which enables progression to both higher education and employment within the business. Develop personal, learning, and thinking skills, which are highly valued by employers and universities. Gain confidence through developing independent learning skills.


Internship
With the internship, students will experience the application of theoretical knowledge that they gain during the previous semesters. Internship experience gives students insight into professional business practices, helps them to have a comprehensive understanding of different units of a company, identifies their career goals and it offers an opportunity to improve their social skills by interacting with employees in the companies. Moreover, nowadays, companies attach great importance to internship experience and give more chances in the recruitment process to graduates who have developed themselves in different fields.
To graduate from the Prime International College Business Administration Department, students have to have a minimum of 20 days of internship experience in a company approved by the Internship Committee among the other graduation requirements.
To start an internship, all students have to complete a minimum of 150 ECTS of courses. Students are expected to provide the following;
To identify a problem at the company and offer solutions;


To identify similarities and dissimilarities between the courses and the performed business activities during the internship;


To write a report about experiences and give a presentation before the Internship Committee

Curriculum
Higher National Diploma in Sport & Exercise Science
The Level 5 HND in Sport & Exercise Science requires two years of study with the College. Throughout the course, you will be required to complete 15 core, optional and specialized modules (eight in year 1 and seven in year 2).
To achieve the qualification, a student must have completed units equivalent to 120 credits at level 4 and 120 credits at level 5 and scored at least a pass in 105 credits at level 4 and 105 credits at level 5, amounting to 210 + credits.
You will be assessed in each module that you take usually with 2 or 3 pieces of work. The majority of our assessments are through coursework that will range from practical teaching episodes, lesson design, teaching resource design, presentations, DVD production, essays, and many more. We vary assessment methods to allow students to develop a range of skills that will be essential in a teaching career.
You will study the following units:
YEAR 2 - Level 5 HND
Unit 9: Entrepreneurship and Small Business Management (15 credits)
Unit 11: Research Project (30 credits)
Unit 12: Organisational Behaviour (15 credits)
Unit 17: Understanding and Leading Change (15 credits)
Unit 32: Business Strategy (15 credits)
Unit 35: Developing Individuals, Teams and Organisations (15 credits)
Unit 41: Brand Management (15 credits)
Unit 42: Planning for Growth (15 credits)
Total Credits: 210+
Course Structure - 1st Year
1st YEAR - Level 4 HNC
Level 4 - Your first year serves as the foundation for your development as a teacher covering much of the base knowledge needed to be an effective teacher.
Explore the purpose and value of a well-designed PE programme, how to plan and deliver engaging and effective lessons and how to ensure your teaching is inclusive yet challenging.
Plenty of practical experience will be found in your Teaching Games and Physical Literacy modules as well as opportunities to develop knowledge in Health Related Exercise, Adapted Physical Activity, Gymnastics and Dance.
Total Credits: 120
Course Structure - 2nd Year
2nd YEAR - Level 5 HND
Level 5 - Building on the knowledge gained at level 4, here we challenge you to develop your own teaching philosophy based on your experiences and values.
You will explore a range of teaching models and learning theory.
More practical experience is offered in Athletics and Outdoor and Adventurous Activities alongside the opportunity to create a unit of work to be used in a school as one your flagship assessments.
The opportunity to tailor your programme with optional modules is a key feature of the course.
Total Credits: 240
Undergraduate Courses
Undergraduate Courses (Level 4/5/6)
Level 4 courses come in the form of 1st year of a bachelor's programme or HNC (Higher National Certificate). Depending on the type of associate degree a student may be able to start their 2nd year of bachelors (The course must be the same as the one they are applying for)
Level 5 courses come in the form of the 2nd year of a bachelor's programmes or an HND (Higher National Diploma). Depending on the type of associate degree a student may be able to start their 3rd year of bachelor's (The course must be the same as the one they are applying for).
Graduate Course
Graduate Course (Level 6)
Level 6 courses, Physical Education (BSc Hons), are the final component in a bachelor's degree. Your dissertation is a final year research project based on a topic of your choice which provides a fantastic opportunity to develop expertise in a specific area. The practical experience continues in the Alternative Activities (Parkour, Golf, Skateboarding, and mountain biking to name a few) and Swimming modules.
Throughout your degree, there are opportunities to develop your CV through the enhancement programme. We offer a range of courses each year from coaching qualifications, such as the FA Primary/Secondary Teachers Awards, to workshops and guest seminars on key topics. The perfect preparation for a career in teaching.

Students who successfully complete the Higher National Diploma in Physical Education qualification can progress onto the Degree Top-Up programme at many universities such as the University of Hertfordshire, Buckinghamshire New University, Teesside University, University of Sunderland, Buckinghamshire New University, University of Huddersfield, London Metropolitan University, Oxford Brookes University, University of Gloucestershire, University of Worcester, University of South Wales, Tranmere Rovers FC, Northampton Town FC, Precision Reading Football Academy, AFDA Football – Whetstone, Forest Sports Education, The Football College – Bury FC.
Workforce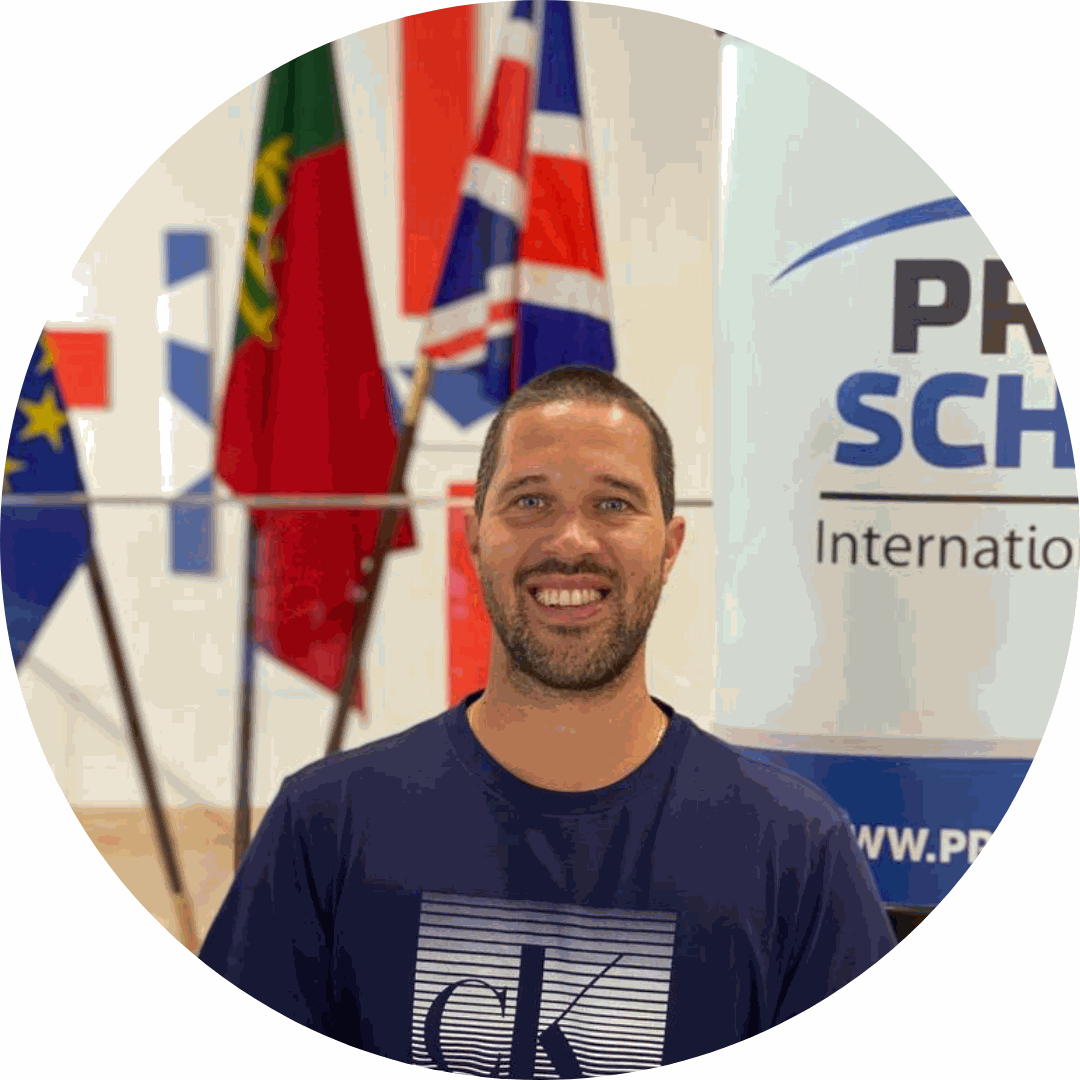 Diogo Baldo - Head of Sports Science Course
Diogo knew where his future lay from a tender age - becoming a PE teacher and a football coach. His unwavering dedication to this goal ensured that he focused all his energy on and completed a broad range of courses, ensuring he improved his skills and knowledge. He holds a Bachelor's degree in Physical Education, a Post Graduation in High-Performance Football Coaching, and a Master's Degree in Sport Education. He has worked for the Cascais City Hall as coordinator of the youth volunteer programme "Sports Volunteer" and worked on some of the biggest sports events to be hosted in Portugal: IronMan, Volvo Ocean Race, and many more. He joined the team of Prime School International in 2017 and his main teaching ethos is to aid all his students in growing and developing a healthy mind and body for life.


1st Year Schedule
1st Term Timetable
2nd Term Timetable